On the occasion of the E-Commerce Solutions Showcase web event, held from 15 to 17 March 2022, the Gruppo Robatech, based in Muri, Switzerland, specializing in the industrial application of hotmelt and cold glue, unveiled Vivo 18, a new coating head incorporating ultra-modern features. 
In fact, the head directly applies the adhesive on the tear strips of paper, cardboard and film shipping packaging for items purchased online and, at the same time, is able to produce adhesive closures. In addition, given its space-saving installation dimensions, this new solution ensures fast processing and precise application of the adhesive.
In particular, thanks to the optimized distribution of the adhesive in the nozzle, Vivo 18 is able to achieve a uniform application from start to finish, with perfectly sharp edges and clean cut-off. This last aspect is guaranteed by the negative closing element and the possibility of accurately adjusting the alignment of the nozzle to the substrate.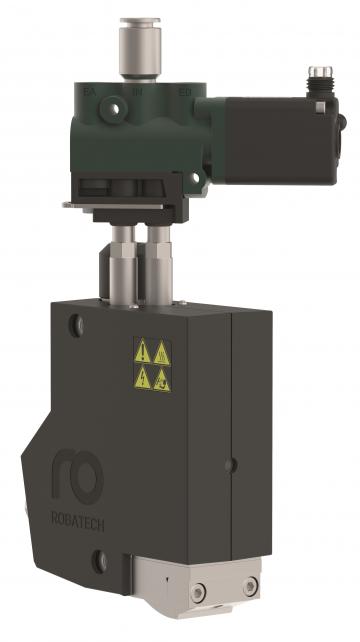 Among the various benefits offered by the new head, there is the possibility of applying also non-adhesive tear strips directly on cardboard packages. This function is made possible thanks to the uniform and precise application of the adhesive, starting from a width of 2 mm, even at speeds up to 200 m/min, while guaranteeing good adhesion. In the case of adhesive closures, on the other hand, the production speed can reach 250 m/min. As for the width of the adhesive, format changes can be made by means of interchangeable masks in the nozzle.
With a width of 32 mm, Vivo 18 is one of the most compact coating heads on the market today. In addition, it is possible to mount two heads, one next to the other, to limit the overall dimensions and obtain flexible variants up to a maximum of two adhesive closures and one tear strip. Finally, the tapered nozzle ensures that the adhesive is also applied very close to the folded cardboard or the existing tear strips.