Sustainable and recyclable monomaterial film for the production of food trays. Innovation and sustainability according to AMB, an international company that presents itself as a unique interlocutor in the packaging field.
AMB SpA, founded more than 50 years ago in Friuli Venezia Giulia, is one of the leading international companies in the production of rigid and flexible films. Among its strengths is its offering of end-to-end processes, from packaging design to prototyping, production and film printing.
Long committed to reducing the environmental impact of its processes and products, AMB has developed TotalMono PET, a single-material solution for both the top and bottom of trays, which meets the requirements and specifications of recyclability and sustainability required by European regulations.
The Friuli-based company has long supported the principles of circular economy, reducing the waste of materials and the production of waste to a minimum.
With the TotalMono PET solution, AMB has therefore developed sustainable films that guarantee food preservation throughout the supply chain: an opportunity offered to retailers and consumers to combat food waste.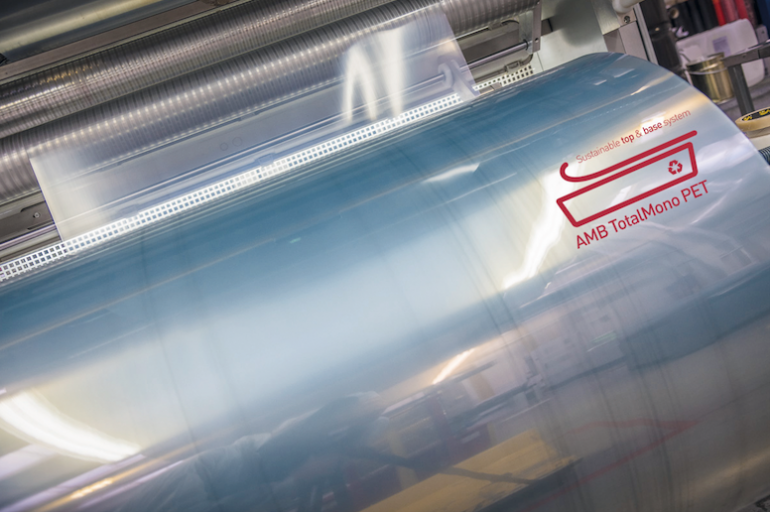 High performance films for delicate products
AMB's mono PET top and bottom solutions provide high barrier protection for even the most sensitive foods.
Reduced thickness leads to a wide range of variants and a significant reduction in packaging weight without compromising performance.
The material provides exceptional product protection even with a thickness far less than that of a multilayer structure. In addition, the low thickness ensures less plastic is used and more product is obtained with the same amount of material.
All barriers are non-EVOH as EVOH has a negative impact on PET recycling stream and is not in accordance with the main European recycling guideline. 
Monomaterial bottom films are available in thicknesses ranging from 200 my to 800 my, with the possibility of reduction compared to APET/PE.
Flexible films are available in thicknesses ranging from 37 my to 60 my.
In addition to not creating any problems in the printing process, another feature of these films is the ease of sealing (the process is carried out at lower temperatures than with multilayer solutions).
An airtight seal is provided by a special welded layer, and although the gauges are thin, the material offers high resistance to tearing during processing.
AMB's TotalMono PET is an excellent solution for fresh meat and sausages, dairy products and other foods that need high protection.
And while the high transparency of the material ensures a perfect shelf presentation, the barrier effect guarantees a long shelf life for the benefit of consumer safety.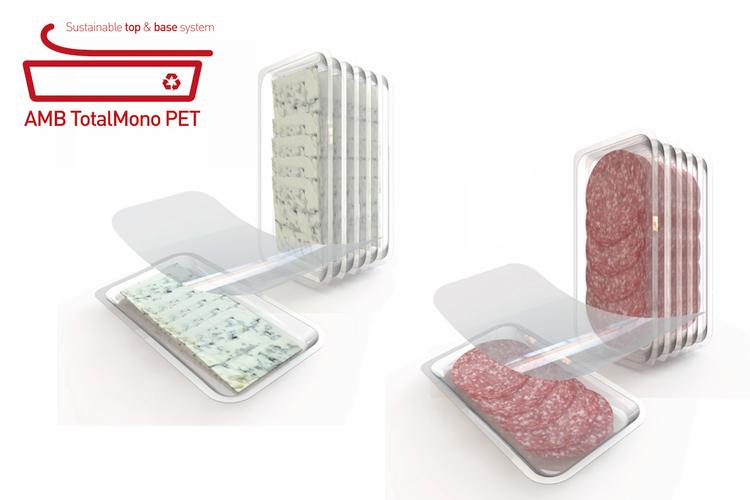 Notes on material selection. Meeting the requirements of international recycling regulations is not only important when developing packaging solutions but also when selecting the materials to make them. A few examples: AMB's BOPET flexible films have a post-consumer recycled PET content of between 37% and 60%. For rPET bottoms, depending on customer requirements, between 50% and 100% post-consumer materials are used.