Edited by Luca Mei
At the K 2022 fair Colines, the Italian manufacturer of extrusion lines, exhibited one of its flagship flat-head extrusion lines, the ALLRollEX 3000 mm. Thanks to cutting-edge technology, this machine has been further refined in order to be able to produce films of the last generation, which in turn have allowed the development of equally advanced applications with an eye to recyclability.
Polyethylene was the undisputed protagonist of the participation of Colines in K 2022, with a general success brought about by the company's choice to invest heavily in the first major event after the virtually total stop imposed by the Covid-19 pandemic. A hefty investment which was reflected in a small but significant expansion of the company's booth and above all in the decision to bring to the fair a line in operation, the flagship model ALLRollEX 3000mm, which produced stretch film based on the flat-head technology, the only extrusion line exhibited live in Hall 16 and one of only two cast film lines displayed at the German fair. The collaboration with an important consolidated partner such as ExxonMobil also allowed the Italian company to introduce a stretch film of great interest for the market, both for its 30% content of PCR (obtained from chemical recycling), and for its excellent mechanical features: with a thickness of 12 microns, in fact, the film reached - in test runs also carried out at the fair on an Estl test machine - ultimate strain values exceeding 400% and a wrapping consistency superior to 300%.
Last generation MDO
The innovative ALLRollEX 3000mm line on display, however, was not the only major attraction showcased by Colines at K 2022. Another highlight, also based on polyethylene, drew the attention and interest of the visitors who flocked to the company's stand during the eight days of the exhibition: the stand-up pouch type packages produced from an MDO-PE film obtained on a flat-head extrusion line, i.e. a polyethylene film mono-oriented in line using the last-generation MDO (Machine Direction Orientation) units engineered by Colines.
Nicola Lombardini, head of the R&D department at Colines, commented:
For us, it was the culmination of a project spanning about two years which led us to create something so innovative that until recently was considered impossible to obtain, namely a PE-based film extruded with cast technology and mono-oriented in line. It is a product which can immediately gain incredible market shares and even create new ones, replacing existing PE-based films as well as others based on PP or PET.
A process which has led Colines to collaborate with major PE resin producers.  
It all started in the autumn of 2020, when one of our suppliers put us in touch with an important customer who wanted to make an MDO-PE film using the cast technology, a product which until then had only been made on blown film plants, albeit with some technical limitations depending right on the extrusion technology" Nicola Lombardini added. "At that time, we had a laboratory line designed for the extrusion of polypropylene and the first results were so impressive that we decided to invest in product research, with a new cast line with a 1,600 mm table - reduced to 1,300 mm after switching to MDO - specially optimized to process polyethylene films. Before we were even looking for partners, the word had already spread in the plastics industry and the expectations about the new product were so high that a large resin manufacturer contacted us in order to share research results.
One year ago, Colines already disclosed the first important results obtained, announcing the production of a mono-oriented polyethylene-based film featuring high mechanical and optical properties, and printed using the offset technology.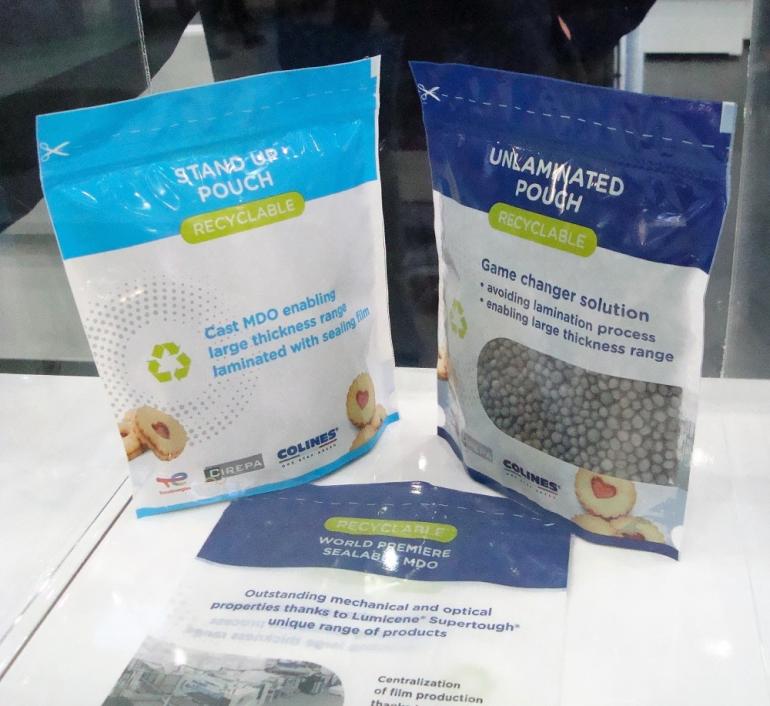 Choosing the material
Why is it so important to be able to make a mono-oriented PE-based film? It's all in the properties of the film" Nicola Lombardini explained "since the same MDO-PE film produced on blown film plants has well-defined optical as well as "physical" limits. For example, when produced on a cast line this film has optical properties with Haze and Gloss values much better than those of a similar film produced on a blown film plant, while if we think about the possibility of a film which has a welding side and a printable side, this can only be obtained on a cast line. The fact that polyethylene is much easier to recycle, with melting temperatures significantly lower than other polymers, makes this product a real game-changer in the plastic market.
The first results, still partial though significant, were soon followed by others in the subsequent months: along the path that led the company to K 2022, in fact, the collaborations with large resin producers have increased, up to simultaneously involving three different resin producers in three different projects. Together with one of them, Colines created stand-up pouches obtained from a printable MDO-PE film extruded on its flat-head line and then welded with a specific PE supplied by the same resin producer; for another producer, instead, the pouches were all made from films made by Colines on the same cast line: an MDO-PE printable film laminated with a welding PE film. Finally, for the third producer, two distinct paths were followed: on the one hand pouches were produced by laminating a flat-head extruded MDO-PE film with a welding PE film made on an extruded line incorporating Colines blown film technology; on the other, a pouch type was produced in MDO-PE mono-film, i.e. a single flat-head extruded film with a printed side and a welding side.
The film of the future
We have received more than a confirmation" Nicola Lombardini continued "that this can be the film of the future - both because of the interest expressed by the market over the months leading to the fair, and of the even greater attention that our visitors showed for the samples produced. Some of them, who conducted tests together with us and who are used to working on MDO-PE blown films, were impressed not only with the much better results obtained by the cast film in the lab, but also and above all with the greater ease of management and implementation of a cast line compared to a blown film plant. After obtaining excellent results on our laboratory line in the 1,600-1,300 range, we have scaled up the same tests on bigger lines. Our next goal is to fine-tune them to ensure the optimization and maximum efficiency of the lines, in order that they can produce both MDO-PE film and the welding PE film that, in some cases, is necessary for the end product".
The goal for the Italian manufacturer is to deliver to the market a technology offering a valid alternative to many applications currently covered by BOPP and BOPET films (where BO stands for bi-oriented), with the possibility, on the one hand, of guaranteeing a more comfortable market entry for entrepreneurs, in terms of initial investments, and on the other hand bringing to the market a more easily recyclable film. To optimize production, Colines has also worked on the ease of use and extreme versatility of its lines, presenting at the K fair the new Mastermind, a profile and line management system developed in cooperation with Elav, a subsidiary company dedicated to automation and electronic innovation, among other things. This system was also incorporated into the ALLRollEX 3000mm line exhibited at the fair, which in turn attracted much attention from visitors.