AMB, a company based in Friuli, Italy, specialising in the production of packaging, especially food packaging, is able to manage all product-related activities: from design to tooling, from prototyping to production, lamination and film printing. The company is present at interpack 2023, an exhibition dedicated to the world of packaging, from the production of packaging products and materials to packaging and distribution, scheduled from 4 to 10 May in Düsseldorf.
We spoke to Swan Cecatto, Sustainability Manager at AMB, about what makes AMB different, current challenges and the growing importance of innovation to find sustainable solutions.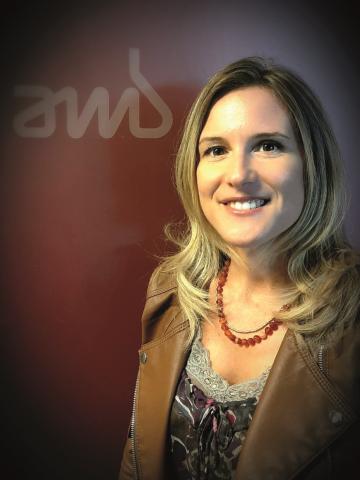 Could you tell us more about AMB's presence at Interpack?
interpack is one of the largest and most significant trade shows for us in the packaging sector. We are excited to present our full range eco-friendly mono films AMB TotalMono PET and AMB Mono PE Flowpack, as well as our solution for tray-to-tray recycling AMB Tray Revive. AMB state of the art packaging solutions are found in the dairy and food markets as well as the pharmaceutical industry. This year two of interpack's designated Hot Topics, the circular economy and resource management, are topics that are of upmost importance to us at AMB and to which we have devoted substantial amounts of our research and development efforts. This is why our company-wide drive for sustainability is making big strides towards closing the loop of the circular economy.
How does AMB approach innovation and sustainability?
As you know, we have an all-in-one-place approach, which allows us to be very holistic. For AMB, innovation starts with listening to our customers, their customers and consumers, as well as taking into account current and future national and EU legislation. Our deep customer relationships allow us to shape ideas, which in recent years have increasingly focused on concerns for the environment and our planet. Ideas are then taken through an internal stage-gate process that guides the development of new products step by step, allowing us to maximise sustainability at every stage. It is also important to note that throughout this process we work closely with all our partners, from suppliers to recyclers. All our solutions focus on ensuring food safety, reducing food waste and improving sustainability. Our aim is to increase the recyclability of packaging, to stop the ever increasing generation of packaging waste and to minimise food waste.
One of this year's Hot Topics at Interpack is the circular economy. What is AMB doing in this direction?
The European Green Deal aims to promote the efficient use of resources by moving towards a clean and circular economy. Circularity is in our minds: an important step in this journey has been the development of recyclable packaging. Being proactive in packaging circularity is crucial. With our tray-to-tray recycling initiative, AMB Tray Revive, we are developing the recyclability of PET trays and creating demand for this valuable secondary raw material. This project, developed as part of our overall sustainability strategy, has been very successful. It uses post-consumer trays to make film, which is then used to make form-fill-seal packs and new thermoformed trays. It was launched in partnership with an Italian recycler. The post-consumer material is shredded into flakes, which are then used to make tray-to-tray products. This allows our customers to offer their customers guarantees of recyclability and sustainability, an important factor in appealing to today's eco-conscious consumers and avoiding greenwashing claims.
How does PET reflect AMB's commitment to sustainability?
According to the EU PPWR proposal, by 2030 packaging must be fully recyclable and by 2035 it must be recycled on a large scale, i.e. converted into recycled raw materials of sufficient quality to replace raw materials of virgin origin. At AMB, we have taken the lead in developing Mono PET solutions that meet these guidelines today. Our AMB Mono PET solutions promote sustainability in many ways. Through downgauging, we have developed lower thicknesses that require less plastic in production, meaning that more product can be made from the same amount of material. We are not only fully committed to the circular economy, but also to minimising the overall use of resources and the production of waste. Our LCA studies and EPD communications have highlighted that switching to mono PET high barrier could lead to a reduction in fossil GWP of up to 20%. In addition, our PET mono high barrier, which has received PETCORE endorsement, will not have a negative impact on the current EU tray recyclability stream. Resource management, another hot topic at this year's Interpack, has been a driver of our sustainability strategy for many years. We are pioneers in the use of recycled PET and in 2021 we will have avoided more than 103,000 tonnes of CO2 equivalent emissions thanks to the use of recycled input materials.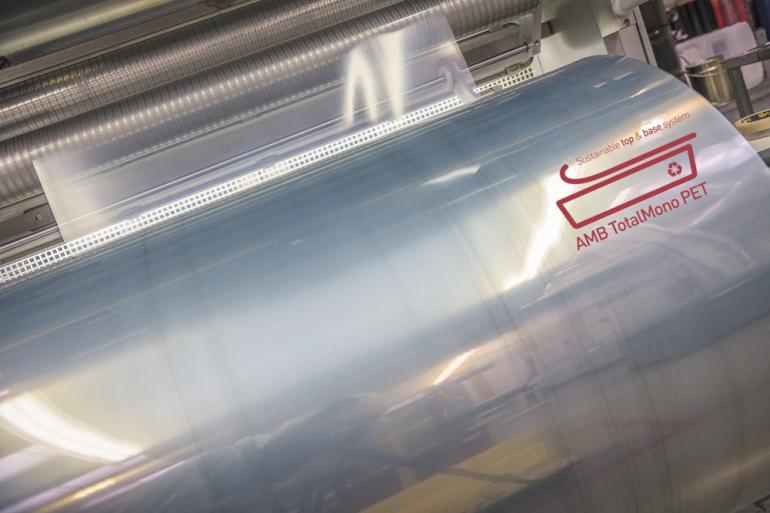 How does RPET impact food safety?
At AMB, we ensure the quality of our rPET products through our quality management system and by implementing super-cleaning processes that decontaminate recycled materials and meet the requirements of the new regulation on recycled plastic for food contact applications.
Our products preserve food in an extremely safe and secure manner throughout the food chain. They meet the highest standards of food protection and have properties that significantly extend shelf life, reducing food waste. We have measured our food safety culture among our employees and, thanks to continuous training, 95% of our employees have achieved a high/high level.
Can you give us more examples of AMB's holistic approach to sustainability?
We recognise that in order to develop sustainable packaging, it is essential to have a comprehensive view of the impacts throughout the industry's value chain. This is why we do not stop developing the eco-design of our products, but rather take action to recycle them effectively and analyse their impact throughout their lifecycle. Climate change is one of the most pervasive and threatening issues of our time. In 2023, we started to assess our carbon footprint according to ISO 14064, which is a valuable first step towards a quantifiable reduction of emissions.
In addition to the points I have already mentioned, we are striving to improve sustainability in all areas of our business. Even in Tooling. Here we are promoting the use of materials with a lower environmental impact to enable sustainable waste management. Most of the materials used in the tooling process are reusable. Steel and aluminium can be recycled indefinitely. They are never completely used up, in line with the principles of the circular economy. Any residues are sent to special processing plants where they can be reused in recycling processes. Another example is our printing unit, which uses water-based printing instead of solvents, which is good for the environment and the safety of our employees. As I mentioned earlier, we make sure that all new projects that enter our stage-gate process start with sustainability in mind. Our goal is to have 100% of our innovation projects firmly rooted in sustainability by 2025 and to guarantee at least 30% recycled content by that time.
What challenges is AMB facing?
One of our challenges is to comply with the European Green Deal, which has set a very clear path for the packaging industry - packaging must be recycled on a large scale by 2035. Like all companies in the packaging sector, AMB has been heavily influenced by this target. Our own belief in circularity and recyclability has made us pioneers in this field. We will continue to push for circularity, eco-processes and eco-design in all our business areas. I'd like to add that this change is also being driven by retailers and consumers, who are demanding more sustainable products, and by international organisations, policy makers and NGOs, who are all striving to achieve international sustainability goals. At AMB, we see ourselves at the forefront of an unstoppable movement.
How will AMB's philosophy aid you in this process?
Acting ethically and with integrity, respecting people and caring for the planet has always been at the heart of our decisions. We act with sustainability in mind because we believe it is the right thing to do and we want to be an advocate for change, not just a bystander. We are committed to providing packaging that ensures food safety and underlines our commitment to eco-design, circularity and intelligent resource management.