Recycle and travel - in Catania bus tickets in exchange for PET bottles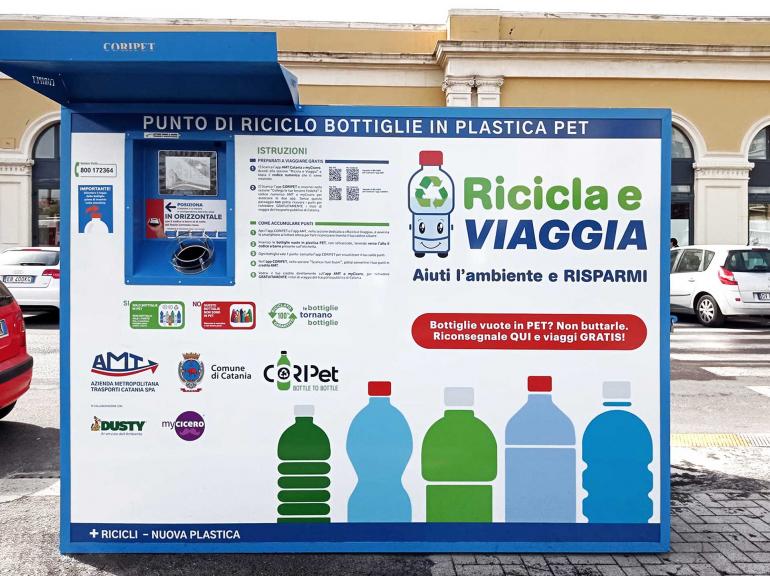 Free bus tickets in exchange for plastic PET bottles as a means to help the environment and allow Catania residents to save money by obtaining free tickets for local public transport. This is the goal of the "Ricicla e Viaggia" initiative, promoted by AMT (Catania metropolitan transport company) with the Coripet recyclers' consortium, Dusty (a company that collects waste), and the MyCicero app.
This initiative includes the installation of six eco-compactors in the city at the foot of Mount Etna in order to start the bottle-to-bottle cycle in compliance with the European directive which requires that PET bottles be made with at least 25% recycled material by 2025.
With the help of the AMT, MyCicero and Coripet apps, the residents can have access to these eco-compactors, introduce the bottles – empty, not crushed and complete with their cap, label and readable barcode - and start earning points. The participants gain a credit for a 1-euro ticket valid for 90 minutes every 20 bottles, and a 2.50-euro ticket valid for the whole day every 50 bottles. The more bottles the participant collects, the more points he accumulates to be eligible for discount vouchers for the purchase of bus tickets.
"It's a wonderful initiative. Catania is the second city in Italy to adopt it. This project encourages us to respect the environment and, at the same time, the residents will be able to obtain tickets for local public transport. Congratulations to AMT and the private companies that take part in it. Catania is going increasingly European on the theme of sustainable mobility and we are happy and proud of it", commented the mayor of Catania, Salvo Pogliese.