The big players of the largescale retail trade as a driver of innovation also with regard to sustainability, which is certainly a goal, but above all a value that permeates every action, from the presentation of a product on the shelf to the management of suppliers. Interview with Chiara Faenza, Sustainability and Innovation Values manager for Coop.
M. Costanza Candi, Luciana Guidotti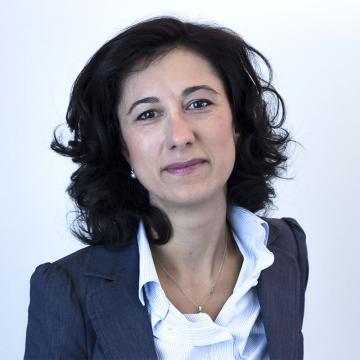 Coop has been working with members for decades to develop sustainability projects. In the 1980s, Coop defined it as "education to mindful consumption", laying the foundations for a constant in the path of the large cooperative retailer: the ability to anticipate trends inspired by the themes of sustainability, declined as a concept extended to the economy, society and the environment.
In this context, packaging has always played a key role for Coop, which has driven its suppliers to pay specific attention to aspects such as transparent labeling, recyclability of materials, conscious planning and design, all adopted as internal standards, well before they were regulated by EU and/or national directives. We talked about this with Chiara Faenza, Sustainability and Innovation manager for Coop.
Acting as a driving force between suppliers, partners and end users
Sustainability touches many aspects within an organization like Coop, where branded products are crucial in the sales strategy and become a driver of values, quality, standards also for suppliers. The repercussions extend to shelf display, labeling, which is the most immediate means of establishing contact with the consumer, logistics, expressing a circularity that draws a real new deal.
In the logic of involvement and awareness of suppliers and consumers, we started in 2006 with a project inspired by the Kyoto Protocol, which was initially joined by 30 suppliers, who were symbolically rewarded on the basis of the completion of a paper questionnaire. Since 2015, we have digitized the path, to increasingly expand access to the initiative, which for Coop is a way to design a green path, which our suppliers of branded products, can join. Today, sustainability issues range from the reduction of emissions to the waste of resources (materials, water, energy...). Theme, that of waste, to which, from Expo onwards, we dedicate a special mention for suppliers. From 2019, we have also included packaging, looking at circularity, virtuous choices, consumption and introducing special mentions for those who have committed themselves in this area. The awards are public events that have involved suppliers in an increasingly strong way, helping to trigger among them a virtuous circle of constant improvement.

Coop4Future, this is the name, is an event evolved following the sensitivity to environmental issues led by major conferences on the subject: first, it was called Coop4Kyoto, today Coop4Future. The next appointment will be in 2022, when we will expand more and more the themes on which our suppliers must compete: participation is voluntary, but it is significant that out of 500 companies, in the last edition 370 joined. Coop determines a path, with guidelines that our branded suppliers follow, to move in the direction of ever greater sustainability. A changing path where the perfect choice does not exist, but safety, economic, environmental sustainability and design must be put together. We are therefore pushing for a system culture that for us is history, but it is also a seed cultivated for a future of conscious and sustainable packaging.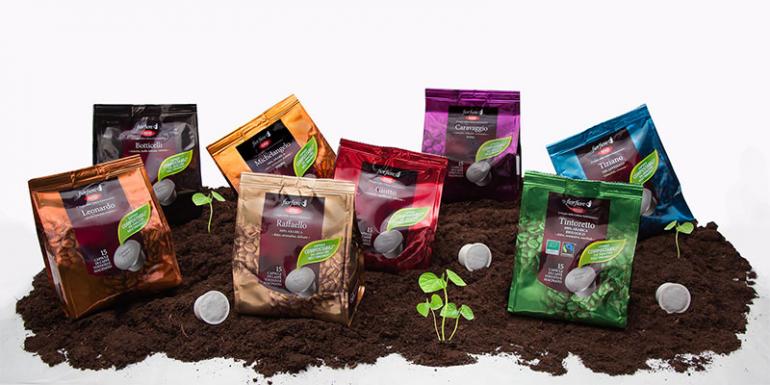 Green deal: values first and foremost
With the involvement of the companies of its ecosystem of branded products, Coop demonstrates that sustainability is a theme whose value is now fully assumed by public opinion, to which the large players of the largescale retail sector respond by extending green concepts to the entire supply chain, to respond to consumer sensitivity on the one hand, but also stimulating culture and needs on the other.
The largescale retail trade is now a fundamental link between the world of consumption and industrial production: many consumer requests "go back" to primary production, after having understood the stimuli coming from the largescale retail trade itself. A dynamic that belongs to Coop, which governs the process from the earliest stages of production, to the industrialization of the branded product and packaging, in a coherent path for values and standards, where container and product are one.
This integrated path reaches the consumer through the largescale retail trade, which acts as a "hinge" in a virtuous circle, which for us also has a social value, since it creates relationships. It is no coincidence that we have always developed projects that involve, on a national basis, private stakeholders, NGOs and public bodies, making the most of our real strength: our social base. In fact, we dialogue with more than 6.4 million consumer members... people who ask and act, also influencing Coop's choices. On the other hand, let's not forget that a cooperative retailer such as we are, by its very nature, includes fundamental values such as sustainability, which is placed on the same level as the protection of health, people, conscious consumption and environmental protection. Ecology and sustainability actually express different concepts, since the latter is based on three pillars: environmental, social and economic. A product, in fact, is sustainable if it is sold, only staying on the shelf does not make culture and is therefore unsustainable.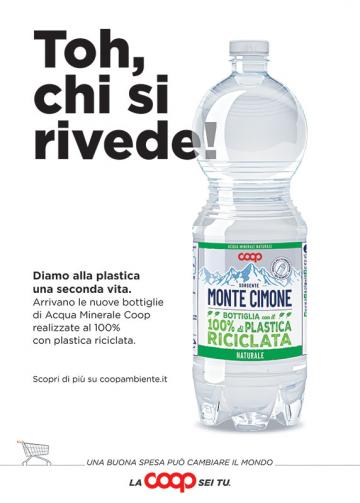 Economy, ecology but also healthy pragmatism
Chiara Faenza's reflection then shifts to the logic that must underlie sustainability: attention to these issues, for Coop, is functional to a development model that is economic but also ethical and with attention to social issues. 
We make choices that are truly embedded in the production and consumption context in which we operate. Think, for example, of water bottles, where one of our references is made 100% in recycled plastic, or liquids for home detergents and textiles for which we have chosen recycled material in various percentages; an approach that we have extended to carbonated drinks, which have at least 30% recycled. And these are plastics that can be delivered to a single collection point, falling within the circularity of recovery.
If we think about the use of compostable packaging material, on the other hand, the choice has fallen on products such as coffee: collecting it in the wet waste stream, at a single collection point, is undoubtedly easier for the consumer, to whom we are therefore offering a product but also a service. Another good example of this strategy are the stamps for loose fruit and vegetables, of which we are the main sellers at national level: they are also compostable and can easily be collected with the wet waste.
As of the beginning of 2020, bread bags sold at the salespoint are all cellulose-based monomaterial, so they can be disposed of in a single supply chain. If we then look at reusable packaging, we have a series of interesting cases, such as the use of boxes with collapsible walls for fruit, a concept that, once successfully tested, was transferred to the fish market, where we replaced polystyrene containers, saving 300,000 units.
According to Chiara Faenza, the choice of any packaging must be driven by a reflection that combines several aspects: respect for the environment, functionality, marketing, food safety, recycling, end of life. Therefore, emotional choices that exclude one material and favor another are not needed, but rational reflections that bring together the aforementioned pillars of sustainability and functional considerations, linked to everyday life and the use that is made of the product at every stage. 
In this area, we can say that Coop has been a bridgehead, starting in 2007 with what we called the "environment label", which explained how to recycle, giving the consumer a role as a conscious protagonist, but also providing additional information in view of transparency. Well, since September 2020 it has become a standard, which is scheduled to be implemented from January 2022. With our labels, we try to enhance the information content: we talk about recycled raw materials, processing waste, renewable sources, because even this level of communication helps the consumer to make an informed choice and not only emotional.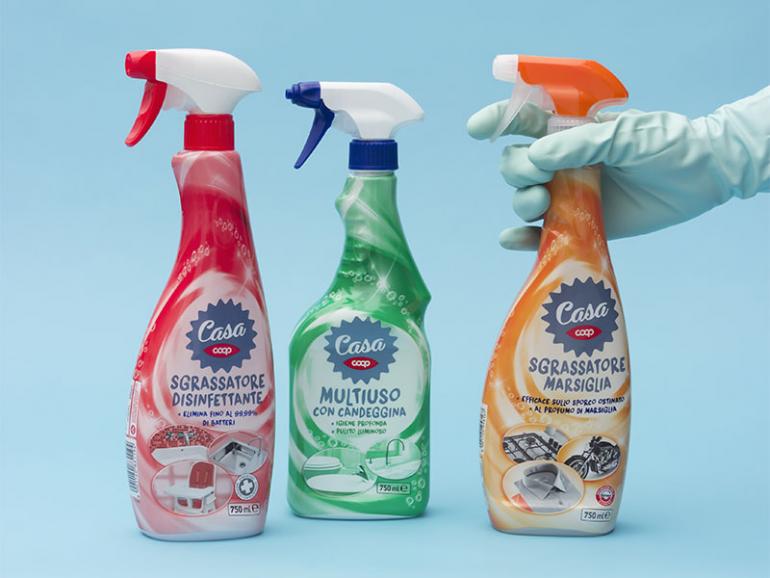 A circular commitment, between training and communication
Consumer awareness is an essential point for Coop: it is not a coincidence that it has been organizing "mindful consumption consumer training courses": held in stores, they bring to public opinion what for the company is an expression of values, transmitted through technical choices (such as labels), production strategies (such as the choice of materials for sustainable packaging) and evocative ADV campaigns (such as the one dedicated to Bees, to "Good and Fair", to the "Cart that wants to change the world"). A "circular" commitment that touches all aspects, including the regulatory one.
In fact, Coop is one of the stakeholders working for the national implementation of the UAS Directive on recyclable plastics. A commitment that shows how indispensable is the participation of the sectors involved in political decisions, especially when they have such a significant impact on entire supply chains.
Sustainability of packaging means, in fact, research into new materials, the study of innovative and "responsible" design, ad hoc communication that underlines its characteristics, and marketing.
A variety of aspects, on which Faenza expounds the cooperative retailer's vision:
We have always been good at doing more than telling, but now in Coop we have clear that sustainability is a differentiating factor and fundamental also for sales. In the Coop 2020 Report, consumers' attention to packaging and sustainability emerged. We are talking about a year in which the pandemic has strongly pushed the demand for packaged products. Although contradictory, this dynamic shows that the consumer is aware and should simply be oriented, with dedicated communication. For us, however, it is not just a question of marketing but also of encouraging conscious consumption, a theme to which Coop is committed with content inspired by sustainability, thus responding to the needs of the consumer in the broadest sense. It is essential to continue to follow the evolution of materials, technologies, regulations and guidelines at a global and European level. I refer here to the SDGs (Sustainable Development Goals) of the UN, to the indications of the Commission, which show how products and sustainability are polyhedrons, touching on different issues, but all interconnected. It is therefore necessary to find a balance between the three pillars of sustainability.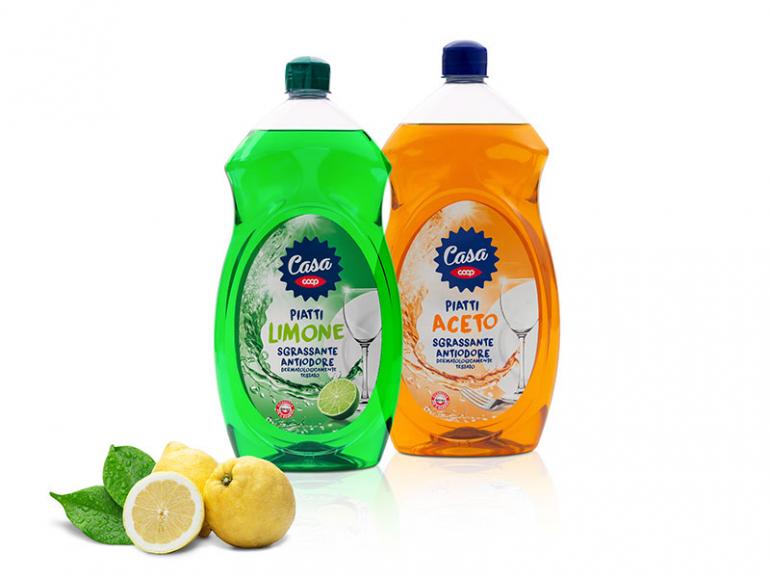 Packaging talks to the territory and society
Therefore, for Coop, packaging and product sustainability are a unicum, where the dialogue between consumers, large-scale retail trade and the market is constant, involving environmental protection, respect for the territory, safety, and sociality, to the point of composing a virtuous circle that describes the new lifestyles and consumption driven by the large players, which are in turn conditioned by them, and not just for now.
I can remember actions that, in the early '80s, promoted the collection of plastic shoppers, which we already then saw as an element not to be dispersed in the environment. In the 1990s we did a campaign on the proper collection of waste and packaging, at a time when, for both examples, no legislation or even public opinion, called for something similar.
Much more recently, in 2021, we installed Seabins. These are waste baskets used as floating collectors, placed in the waters of rivers and lakes in Italy. The placement took place during public events, which involved members and institutions in moments of awareness, designed as real actions on the territory. With the sponsorship of the 2019 Jova Beach Tour, we launched small bottles made from 30%  recycled that were collected by volunteers during the 17 concerts and then used to make T-shirts. Finally, we should not forget the litre bottle made 100% from recycled plastic, which we have on the shelf with two references, natural and sparkling water, which we can make today thanks to the legislation modified in the last year.

In 2018 we joined the Pledge Campaign within the Plastic Strategy of the European Commission: we are the only Italian player among the first 107 signatories of the Circular Plastic Alliance: today we are 293.

The role of Ambassador of the Ethical Packaging Charter also goes in this direction and we consider it both a starting point and an arrival point. On the other hand, our dissemination activity has not been "a straight line", but a circle, which goes back on itself, reproducing the logic of infinite circularity at the basis of sustainability. For us, adhering to the concepts of the Ethical Charter means networking, creating synergies and medium and long term relationships, certainly not "hit and run": a style that has always belonged to Coop and that shows the full sharing of the concepts expressed by the authors of the Charter and the Foundation that promotes it. In short, sustainability in the round, from the content to the container, which should not be separated but must be bearers of the same values.