A financing agreement for a loan worth 40 million euro was recently signed by Intesa Sanpaolo and Sacmi to achieve specific research and development targets with the aim of improving the environmental sustainability of production processes, in particular in the field of rigid packaging and ceramics, and promoting the circular economy principles. The loan is backed by Sace's Garanzia Green fund for 80% of the total amount.  
The operation consists of an eight-year credit line characterized by a pricing mechanism linked to the achievement of precise targets in the circular economy, including the development of new technologies and engineering solutions able to make production processes increasingly circular and efficient by cutting on energy consumption, increasing the recovery of waste materials and the use of compostable materials, as well as containing polluting emissions.
"The loan is part of the group's strategy aimed at continuously improving the environmental profile of its global offer in response to the increasing customers' awareness, and confirms the company's strong commitment to sustainability and ESG (Environmental, Social and Governance) issues", commented Paolo Mongardi, president of Sacmi.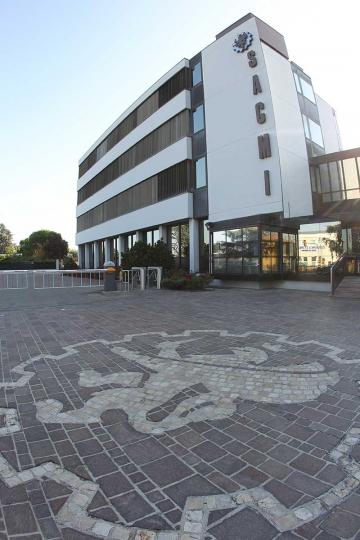 The agreement was finalized by Intesa Sanpaolo's IMI Corporate & Investment Banking division led by Mauro Micillo with the support of the Circular Economy team of Intesa Sanpaolo Innovation Center, a company of the Intesa Sanpaolo Group dedicated to innovation led by Maurizio Montagnese.
Thanks to their positive impact in terms of climate change mitigation, the operations involved are part of the objectives of the Green New Deal, the programme that promotes a circular, modern, sustainable and resilient Europe.
In this context, Sace is playing a central role in the implementation of the Green New Deal in Italy. According to the "Semplificazioni" decree law of July 2020, in fact, the company led by Pierfrancesco Latini can issue "green guarantees" on domestic projects aimed at facilitating the transition to an economy with a lower environmental impact, integrating production cycles with low-emission technologies for the production of sustainable goods and services and promoting initiatives for the development of a new mobility concept with lower polluting emissions.