Over the last few years, continuous restrictions closely involved with environmental sustainability have affected packaging manufacturers as well as users. Indeed, especially in the B2C environment, producers must create a packaging which is fully recyclable, biodegradable, made of 100% recycled material, produced from bio-based raw materials. Nevertheless, some experts express their doubts:
Is biodegradable plastic film really better than the conventional one?

How does the life cycle assessment of fibre-based composites compare to pure plastic packaging? And isn't everything incinerated in the end anyway?
Many consumers are unsure of which choice will keep their environmental footprint lean. As a result, packaging is still entering the market that, although well-intentioned, is more harmful to the environment than beneficial.
Ultimately, the ones who bear the brunt are the disposal companies: What cannot be separated well or only has a small share in the collection of recyclable materials cannot be recycled. The recycling cycle then misses out on the material and recyclers lose their margin. For non-recyclable materials, the only option is thermal recycling which often corresponds to the waste incineration plant.
Meanwhile, considering the industry expects politicians to impose even stricter recycling quotas in the foreseeable future, several recyclers in numerous countries as well as Germany, have now developed their own certifications to assess the recyclability of packaging. Points are deducted, for example, for material composites which cannot be separated or are difficult to separate, such as PE bottles with PVC sleeves. Mono-material, on the other hand, is rewarded. Consultancies and technical testing organizations also offer such services. However, those who produce or use packaging sometimes have to dig deep into their pockets for these offers. Changing materials or replacing equipment can be even more expensive.
In these circumstances, it makes more sense to bring specialists in packaging development on board who are at the very beginning of the chain and have a decisive influence on the nature of the packaging. Manufacturers of high-quality packaging equipment have valuable expertise in materials, design and recyclability. Ultimately, they know every detail of the packaging that is processed on their machines and understand exactly which factors have an impact on sustainability. Therefore, the driving force here is no longer just the highest possible material and energy efficiency in production and processing, but also recyclability at the end of the life cycle.
Some solutions in terms of sustainability and recycling are provided by the German packaging machinery manufacturer Gerhard Schubert, situated in Crailsheim, Germany, which is amed at satisfying packaging producers and users' needs, combining sustainability and safety. This business, with 1,400 employees, is one of the globally recognized market leaders in top-loading packaging machines (TLM) digital, robot-based packaging machines which rely on a combination of simple mechanics, intelligent control technology and high modularity. Gerhard Schubert has been treading completely independent technological paths for over 50 years.
Jägermeister case
At Jägermeister, the herbal liqueur manufacturer, the bottles were manually repacked into cardboard trays outside the production area and then wrapped in shrink film. However, the filling line was producing much more quickly in response to higher demand and the product bottleneck in front of the packaging line was causing noticeable losses in efficiency. In close collaboration with Schubert, Mast-Jägermeister designed a new outer packaging that does not require plastic. It was important to remain true to the appearance of the traditional Jägermeister brand and to take a secure step into the future of packaging design not only with the latest robot technology, but also with the right material and format. To this end, both the sales carton and the shipping carton for machine processing were entirely redesigned and optimized for automated packaging processes. Additionally, the new sales carton offers a larger printable surface for brand presentation and can be effectively merchandised at POS.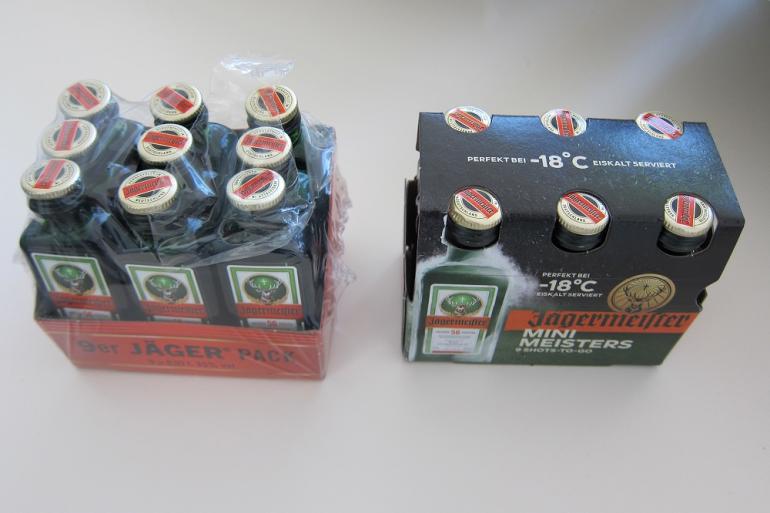 Bringing sustainability in line with other requirements
Homogeneous material, and as little of it as possible, is this ultimately the secret to developing sustainable packaging?
With respect to this, Valentin Köhler, who has been a packaging developer at Schubert for many years, declared:
Of course, you always have to remain realistic: For food producers, sustainability is one aspect amongst many. Especially in the food industry, competition is extremely high. Issues such as visibility at the POS, reliable procurement and compatibility with common transport systems also play a key role. Therefore, the trick is to consider all needs equally in order to find the ideal solution in the end. One that requires as few compromises as possible.
As a machine developer who strives to satisfy customers' wishes in the best possible way, Schubert takes into consideration the concerns of all parties involved when developing packaging and relevant systems: those of the customer as well as those of the retailer, the end consumer and the recycling companies. Thanks to its manufacturer-independent consulting services, the company is able to help customers make the complete switch to sustainable packaging materials. Right from the initial planning stage, Schubert pays close attention to a perfect interplay of materials, technology and know-how - from cardboard trays to paper-based films.
Hosta case
The solution realized for the confectionary company Hosta is an impressive example of how sustainability and economic efficiency can be successfully combined. The Swiss company is best known for its puffed rice product Nippon. Schubert was brought in as a partner to design a new approach to packaging at a very early stage of the project. The aim was to optimize the packaging design in terms of both sustainability and economic efficiency. Precise pick & place robots enabled the developers to shorten the plastic trays by 10 mm. Thanks to this optimization, the film repeats of the flowpacks could also be reduced by another 6 mm. This saves packaging material and therefore costs in the long run. The packaging professionals even reworked the carton. It now consists of a single flat blank with a lid, and no longer of three different parts. Taken together, the improved packaging yields so much savings potential that the carton footprint could be significantly reduced. There is now room for 8 instead of 9 boxes per layer on a shipping pallet. The bottom line is a huge cost saving for Hosta. Not only is packaging material saved, but also truck journeys.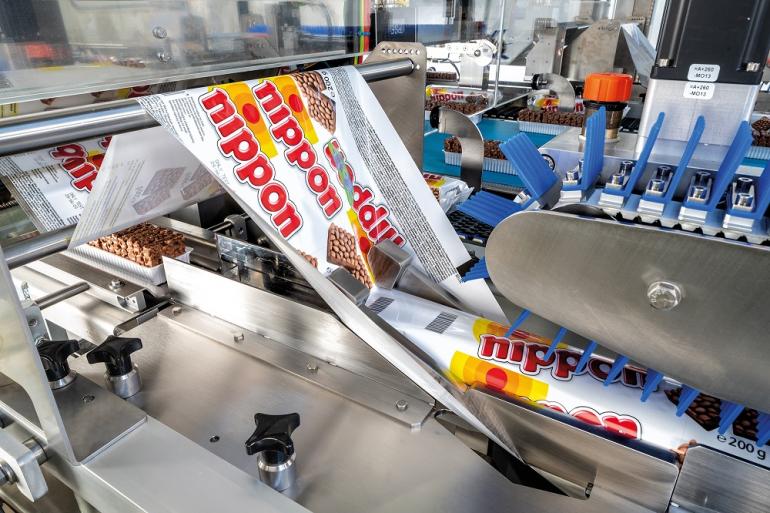 Product quality and safety
As great as the desire for sustainability may be, especially in the food industry, the most important task of packaging remains the barrier function between product and environment. Its main purpose is to protect the product through both transport and storage, and until consumption. The most ecological packaging is of no use if it can no longer guarantee the protective function. When it comes to developing packaging, the Schubert team therefore always carefully weighs up all aspects, avoiding greenwashing (a form of marketing strategy used to persuade the public that an organization's products, aims and policies are eco-friendly) i.e. the use of packaging that claims to be sustainable but cannot deliver on the promise.
In this regard, Valentin Köhler affirmed:
If the barrier function cannot be ensured in any other way, we prefer to recommend a pure plastic film if there is any doubt. After all, in many cases this material can also be recycled if it is disposed of correctly.
When it comes to product protection, Schubert customers can also depend on the reliability and flexibility of the systems Crailsheim - even with flowpack films, where the tightness and barrier functions of some, cannot normally be easily achieved. In Schubert's flow-wrapping machines, a variable sealing system ensures a reliable solution. The technology combines the ultrasonic method for longitudinal sealing and the flying cross-sealing unit which ensures the sealing time can be adjusted exactly to a constant value. The advantage is that both longitudinal and cross sealing processes work very gently and are suitable not only for heat-sensitive products but also for sustainable films.