by Giampiero Zazzaro
Unitechem, Chinese producer of light stabilizers, exhibited its novelties at K (Düsseldorf, October 19-26). Considering that packaging is one of the main sectors in which this modern company is investing, Packaging Speaks Green editorial staff met Domenico Luzzi, international business development specialist, on the occasion of the fair to find out more details about this big Chinese company which decided to expand in several countries, in order to spread its competences about chemistry within the plastics & rubber industry.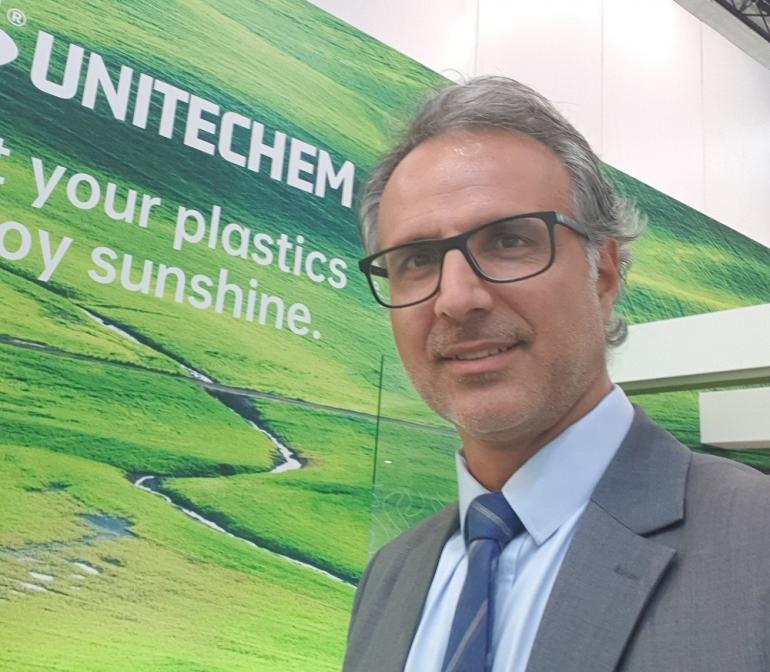 Could you tell us something more about Unitechem?
The company was founded 20 years ago and today it is expanding its competencies all over the world, setting up new production facilities and investing locally with new sales subsidiaries, in Germany at first and then in the United States. Furthermore, the creation of a warehouse in Italy is in our plans.
Considering that sustainability is extremely important in each sector of the economy today, which is Unitechem's approach about this factor?
The company's production philosophy has always been "safety and environmental protection come first", and we are proud of our exemplary record in adhering to the highest safety and environmental protection standards. Our new production plants will be constructed according to the most updated processes, incorporating complete safety and environmental protection infrastructure, including DCS (distributed control system), SIS (safety instrumentation systems), wastewater treatment systems (capable of processing high levels of COD, salts, ammonia and nitrogen), RTO (regenerative thermal oxidizer), thermal storage incineration waste gas treatment systems, hazardous waste incineration systems, as well as other environmental protection systems. Moreover, a dedicated and regularly trained safety and environmental protection team is in place. As part of its commitment to sustainability, in line with United Nations sustainable development goals, Unitechem is investing in dedicated recycling, reuse, and reduction initiatives at its production sites. Installed capacities today include 280,000 m³/hr of waste-gas treatment using regenerative thermal oxidization (RTO) technology, 1,800 m³/day of wastewater treatment, and 8,800 tons/year of solid chemical waste treatment.
Could you describe your main products?
Unitechem portfolio includes several products. One of them is LS2020, which is suitable for polyolefin materials, cross-linked polyethylene, olefin copolymers, and other polymer materials. It can often be used with other light stabilizers, antioxidants, and UV absorbers to further improve the anti-aging effect of materials. Furthermore, we have LS119, which is very popular in the agriculture and automotive sectors. The product is especially suitable for use in PE, PP fibers, PP, and TPO automotive parts. It can also be used in EVA, EPDM, PA, PET, PMMA, and other materials, in addition to powder coatings.
Have you developed specific solutions for the packaging industry?
Unitechem is very well positioned to meet the demands of this industry, indeed the packaging sector is one of our main markets. LS944 is a stabilizer devoted to packaging. Unitechem is also able to produce the raw material for LS944 autonomously and is thus totally independent in its production. We produce and have integrated the intermediate products, such as TOA, HMBTAD. Vertical integration allows us to be flexible and maintain high quality. This product is suitable for various polymer materials such as polyolefins, cross-linked polyethylene, olefin copolymers, PS, PA, PU, flexible PVC, etc.
Furthermore, an interesting new product called LS1415, which is devoted to thick wall materials, will be launched next year. It is flame retardant and halogen free. With an eye to food contact regulations, there are several important products in our portfolio for both flexible and rigid packaging in PE and PP. In particular, the approved food contact additives are: HALS 622, HALS 944, HALS 2020, AO 1010, AO 168, AO 1076, UV 531 and UV 326.
Do your stabilizers just have a protective function, or do they contribute to increasing the physical and mechanical performance of polymers?
Besides the typical protective effects, our additives increase the shelf-life of food products. This is an important contribution to overall costs savings in the supply chain with environmental benefits through waste reduction.
Could you tell us something about your investments in R&D?
In 2022 we invested 15 million euros in R&D and we have recently founded the fifth R&D center, in Shanghai, which is the main one and the most modern. Our R&D department is regularly updating our processes and whenever possible it develops more environmentally sound processes. As a specific example, we are adopting a new and more sustainable technology for synthesizing benzotriazole UV absorbers in a proprietary catalytic hydrogenation reduction.
Which are your future projects?
UniteChem is on a long-term, global growth journey. This includes strengthening our presence in all key markets. After the successful launch of our European branch office in Germany in 2020, we have now decided to continue our expansion by establishing our North American branch office in New Jersey. This will be complemented by warehousing capacities in Savannah, Georgia, in cooperation with our professional global logistics partner. We expect to become fully operational within the next few months. Our customers value our reliable supply and wide portfolio of products, offered together with local warehousing and a local organization. We are the world's largest dedicated light stabilizer supplier and are perceived as a global company with Chinese roots and local expertise.
Furthermore, new production plants have been established in China. In total there are five Chinese facilities: two of them have just been founded, and another one will open in 2023.
We are adding 16,000 tons of HALS capacity, 15,000 tons of UVA capacity, 20,000 tons of other additives such as antioxidants, flame retardants, nucleating agents, and others. We have a very strong backward integration for all our major products. The company has a capacity of 40,000 tons of finished products and 80,000 of intermediate products. This is going to increase steadily in the next years.